Grindrod Limited is the holding company of a dynamic organisation listed on the JSE securities exchange with more than 100 years experience in South Africa's freight movement and related industries. Grindrod's business is all about moving cargo by road, rail, sea and air, providing integrated logistical and specialised services en route. It is a global business represented in more than 37 countries and is uniquely positioned to service Africa trade flows.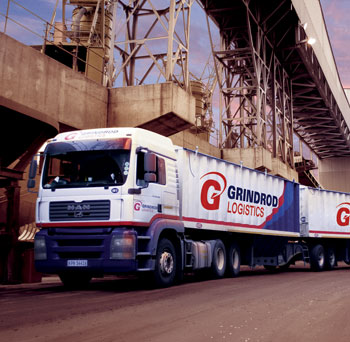 Business Divisions

Grindrod's 3 business divisions – Freight Services, Trading, Shipping and Financial Services – provide operating and marketing synergies locally and internationally.
In pursuing the strategy of becoming a fully integrated freight and logistics service provider, Grindrod continues to invest in assets and opportunities across the four operating divisions with specific focus on dry bulk and bulk liquid commodities, containerised cargo and vehicles.
Grindrod is committed to world-class maritime environmental management standards with a solid record of pollution prevention, efficient use of natural resources and generally minimizing the impact of its operations on the environment. The Grindrod group's vision is to create sustainable returns and long-term value for shareholders.
Contact Details
Quadrant House
115 Margaret Mncadi Avenue
(Victoria Embankment)
Durban, 4001, KZN
Tel: +27 (31) 304 1451
Fax: +27 (31) 305 2848
Web: www.grindrod.co.za
BEE Investment

As a South African listed company, Grindrod views empowerment, transformation and education as an important aspect of its corporate responsibility. This is evidenced in the successfully concluded Black Economic Empowerment (BEE) transaction with a newly formed consortium, BEE Special Purpose Vehicle Consortium that comprises of Calulo Investments, Brimstone and Solethu Investments. The SPV subscribed for 8.16% shares of Grindrod Limited for R1.6 billion, of which Calulo Newco owns 27.63%.
Calulo Investments' shares are held under Calulo Newco SPV, a consortium formed by Calulo Newco, Safika Investments and Adopt a School, who collectively raised R210m to put towards the funding of the deal. Calulo Newco holds the majority share of 71,5%, with Safika Investments and Adopt A School taking 19% and 9,5% shareholding respectively.
The BEE SPV in turn used the R210 million raised by Calulo Newco SPV for the subscription of shares in Grindrod Limited. In this consortium, Brimstone SPV is the majority shareholder, with a 59,21% shareholding, and 27,63% held by Calulo Newco SPV and the remaining 13,16% held by Solethu Investments.
As an investment consortium, this transaction has had a positive impact, further highlighting the leadership role BEE companies can play in major transactions, as well as allow them to diversify and increase shareholding into the infrastructure industry.
Furthermore, this transaction has meant that some restructuring within the shareholding structure had to take place, with the previous individual shareholdings being moved to a collective shareholding within the consortium. Calulo Investments, Solethu and Adopt-A-School previously held shares in Grindrod subsidiaries, but have since restructured their shareholding through the consortium at listed company level.
Calulo Investments' investment clearly demonstrates it's commitment to transformation in the industry, allowing it to play a larger leadership and structuring role. With infrastructure being the new focus area, Calulo Investments' long-term investment is not only investment within South Africa, but a long-term investment in African infrastructure development as a whole.